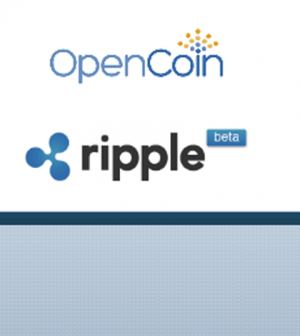 Another day, another Bitcoin-related investment, and further affirmation that VCs are hungry to invest in the ecosystem surrounding the decentralized digital currency. OpenCoin, better known as the developer of open source payment protocol, Ripple, announced that it has raised an undisclosed angel round from Andreessen Horowitz, FF Angel, Lightspeed Venture Parnters, Vast Ventures and Bitcoin Opportunity Fund, SecondMarket founder Barry Silbert's investment vehicle for Bitcoin-related startups and companies.
OpenCoin will use its new capital to expand the open-source code behind Ripple, which, for those unfamiliar, is a virtual currency and payment system that aims to make it easy and affordable for anyone to trade any amount in any currency. Headed by financial services veterans like CEO Chris Larsen, who is also the founder of P2P lending giant Prosper, OpenCoin is on a mission to create a new kind of global currency.
Some would say that makes OpenCoin the equivalent of a "Bitcoin copycat", due to its being a distributed, open source payments network with its own native virtual currency called "Ripples" (like bitcoins). But OpenCoin, for its part, is eager to avoid that moniker — and to avoid being mislabeled as the "next Bitcoin."
In spite of (or because of) its growing popularity — and its becoming a billion-dollar market for the first time — Bitcoin has been subject to increasing volatility and security issues. Bitcoin transactions also have a tendency to take a long time to confirm.
OpenCoin wants to solve these problems by creating a unified ledger, which keeps track of every account, transaction and balance, which the system automatically pings to confirm the legitimacy of transaction, allowing them to clear in under a minute, the company says. By doing so, it hopes that it's also created a system that can eliminate interchange fees and enable people to trade across borders with minimal cost and chargebacks, while solving some of Bitcoin's security issues.
The company claims that Ripple can accommodate any currency, including dollars, yen, euros, and even bitcoins, making it one of the first distributed currency exchanges. Until now, a few Ripples have been in circulation, but the company will begin releasing a huge chunk of its currency (with plans to distribute 50 billion Ripples) beginning in May, with plans to put 100 billion coins into circulation over the long-term.
http://techcrunch.com/2013/04/11/now-backed-by-andreessen-more-opencoin-looks-to-build-a-better-bitcoin-and-a-universal-payment-ecosystem/
*Excerpt from TechCrunch.  News article copyright Rip Empson at TechCrunch.